Create Ambiance with light
Light gives life, regulates our activity cycles and even influences our health.
Its intensity, colour or angle of incidence have a significant impact on our internal state. Well selected lighting may magically influence our mood: invigorate or calm our minds.
To each of you who wish to create a peaceful spot in their space, one that would support relaxation and good mood, we would like to introduce our Migaloo unique Porto lamp. This unusual structure has been made of natural rattan made of many types of climbing palms.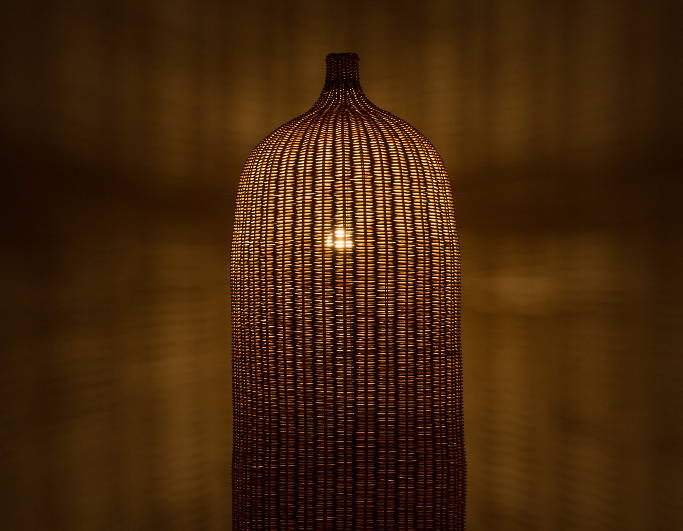 The material is appealing thanks to its exotic origin – it is acquired from tropical rainforests of the Far East. The lampshade is hand-woven on a powder-coated metal frame. The weaving process is very time consuming – takes from 8 to 24 hours! Once the structure is woven, it undergoes numerous processes, including flaming, staining, sanding and varnishing, in order to obtain a product that will remain attractive for many years.
Porto will be a safe element of your home decor, because it has been impregnated with a flame-retardant. The monumental, column-shaped openwork shade diffuses light that runs delicately through it, creating an ambiance of peace and sense of security. Porto, despite its size, gives the sense of lightness and spaciousness and paints an entire interior with light.
The atmosphere created by Porto will be an asset to those who miss a moment of calmness and relaxation after daily hassle. It's warm subdued light will calm down, relax and introduce an aura of cosiness and peace to any room.
By Migaloo £643.00. Delivery 1-2 weeks.
Dimensions
Diameter: 610mm
Height: 1800mm