Top 5 Portable Lights
Transloetje by Fatboy
Taking a new approach to portable lighting design, the Transloetje Wireless Table Lamp by Fatboy is ultra compact with a modern, transparent appeal. Its postmodernist style is influenced by the age-old table lamp design however, despite its small stature; Transloetje features a touch-sensitive system that can adjust three shades of energy-saving LED for varying intensities of light.
100% wireless, you no longer have to deal with unsightly wires. Instead, simply connect Transloetje to a USB portal to recharge the lamp and when fully restored, make use of up to 12 hours of wireless light.This cutting-edge lamp is available in a rainbow of translucent colours, including clear, grey, violet, blue, green, yellow, orange and brown: perfect for injecting some colour into your home or coordinate with an existing scheme.
Measuring 255mm high by 165mm diameter, all electrical components are completely covered making it free to use in the home and outdoors.Designed by lighting specialist Fatboy, the wireless Transloetje reto-style LED lamp offers 3 different light settings, 8 colour options and is fully-rechargeable, making it a highly economical choice for you and your home.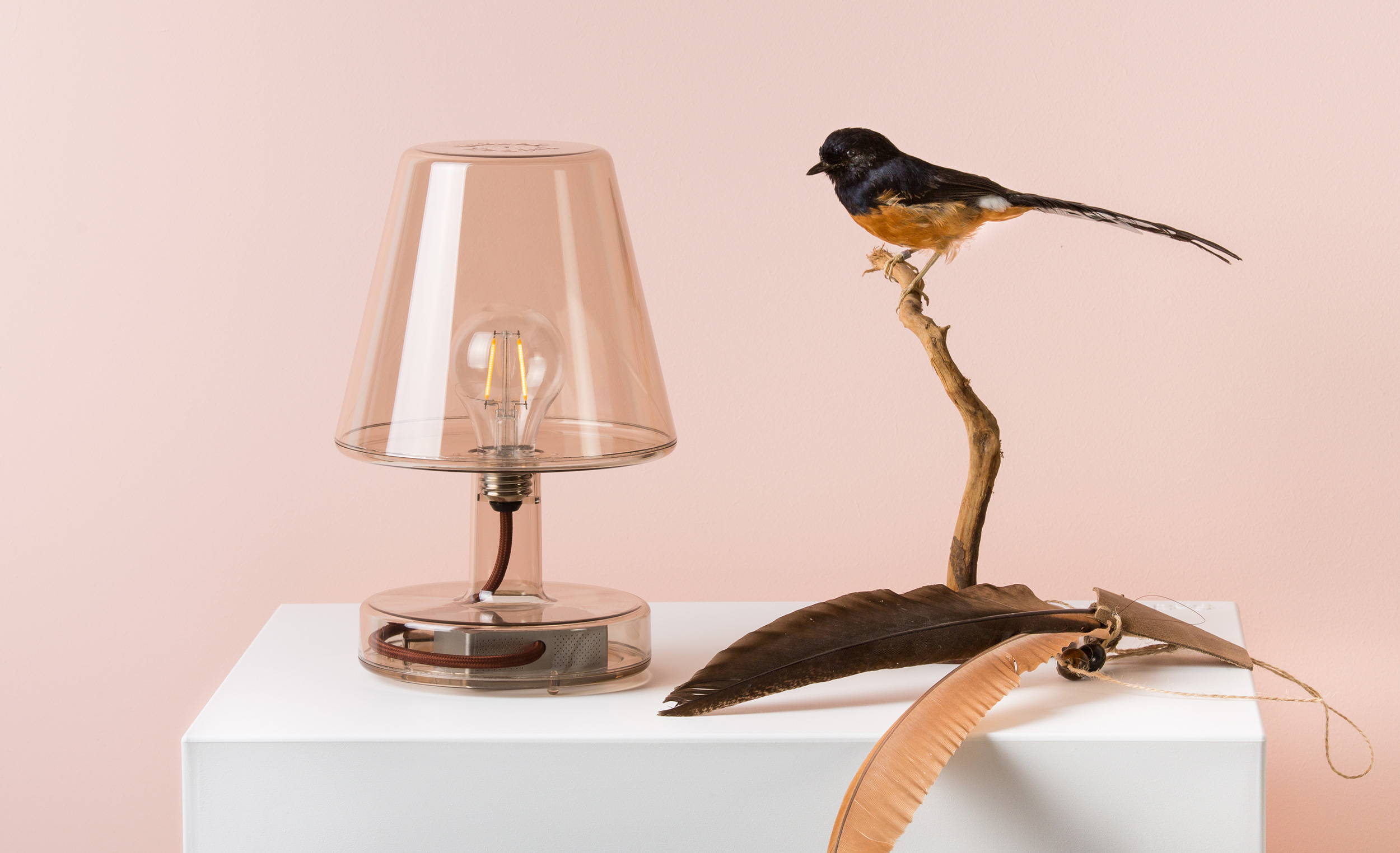 FollowMe by Marset
Marset is about more than lamps and its award-winning FollowMe portable table lamp epitomises this brands technical precision and creative style. Modest in size and autonomous in nature, FollowMe is a portable lamp option with absolutely no need for an electric power point: meaning you can literally place it anywhere.  
Designed with LED technology, integrated battery and practical USB port for recharging, FollowMe also includes a dimmer so you can opt for full, panoramic illumination or subtle lighting dependent on your mood. Bound by a distinct oak handle, FollowMe can vary the orientation of its white polycarbonate lampshade with a simple swing, back and forth.
Creating a truly refined silhouette, its compact design, warming characteristics and independent function is the beauty behind this modern-day table lamp. Measuring 288 mm high with 123 mm diameter, FollowMe is designed by leading Spanish Designer, Inma Bermúdez and fittingly won the coveted reddot award 2016.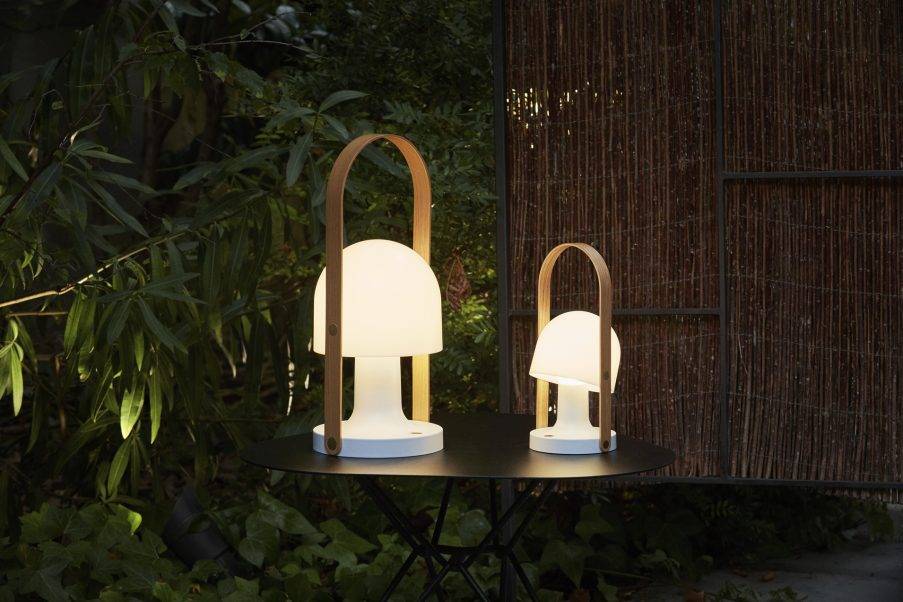 Orten'zia by Terzani
Including natural elements in the home can help bring calm and tranquillity, and Orten'zia Table Lamp by Terzani is a perfect reflection of the great outdoors. Evoking the natural beauty of a delicate bunch of flowers, Orten'Zia will immerse your room with radiant light dispersed through its individual, hand-soldered petals which are clustered together to make an impressive orb of light.  
Playing with the diffusion of light and shadow, Orten'Zia naturally creates large flower impressions across every surface the light hits and is available in Nickel, Polished Silver or Gold: perfect for emphasising its rich aesthetic and elegant profile.
Forming an alliance between luxury design and contemporary art, Orten'Zia is battery operated meaning you are free to position it anywhere you like. Measuring a discreet 130 mm high by 109 mm diameter, the Terzani Orten'Zia Battery Table Lamp is a highly original concept designed by Bruno Rainaldi.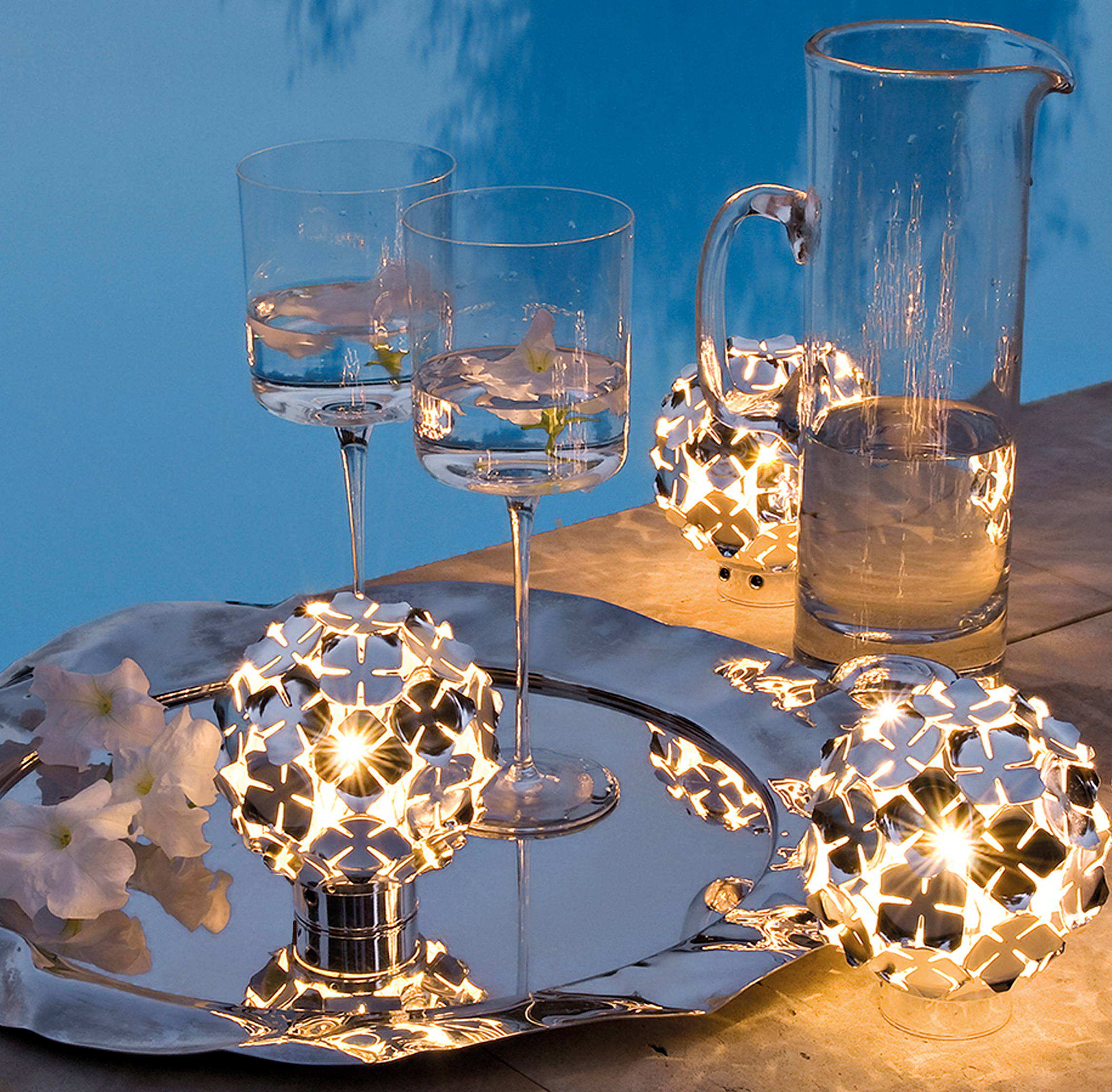 Uma by Pablo
Contemporary in every sense of the word, UMA by Pablo is a revolutionary Sound Lantern that will take you on journey of discovery. A sensitively styled portable light solution, UMA is designed with Warm Dim LED technology and 360° high fidelity surround sound featuring an omnidirectional woofer and tweeter for us technophiles!  
Available with touch sensitive volume control and highly intuitive light control dial, UMA lets you effortlessly stream the highest quality audio via Bluetooth connection from your mobile or smart device: ideal whether you're inside or out! To add to its refined choice of materials and primal beauty, UMA includes a complimentary tan and grey leather strap, along with premium cotton travel bag for additional protection when on the move. Fully rechargeable, UMA includes a long-life battery that after just one charge, will last for up to 8 hours of use.
UMA is the vision of leading American contemporary lighting brand Pablo, and is designed by Product & Architectural Designer, Carmine Deganello, and Venezuelan-born Designer, Pablo Pardo, Founder of Pablo.
Candela by Astep
The Astep Candela light designed by Francisco Gomez Paz is more than just a lamp, combining light, fuel and smart technology. Embracing the Nordic charm of a traditional Scandinavian lantern, this full-bodied lamp is a technologically advanced lighting solution with self-generating properties. Thanks to its supply of bio ethanol, Candela uses a smokeless flame (thermoelectric process) to generate its own electricity. This autogenetic feature powers Candela's LEDs, whilst charging an integrated battery pack which can also power your phone.
A re-fillable aluminium canister for the bio ethanol sits at the heart of this contemporary lighting solution and you'll be pleased to know, holds enough fuel to last up to six hours. The wick is made from ceramic fibres and then coated with Aluminium powder for increased durability. When lit, a flame ascends through the mouth of Candela's hand-blown Czech glass shade. The heat generated by the flame slowly warms a series of plates which channel the heat down before it dissipates.
The different temperatures create an electric current which is designed to power 24 LEDs, subtly diffused by Candela's glass façade. Any surplus energy collected is then filtered in to the battery cell for you to consume at your leisure. The Candela Lamp is 241 mm high x 186 mm diameter and can be used for both interior and exterior lighting schemes.